AUD/USD: growth continues
25
January
2017, 15:36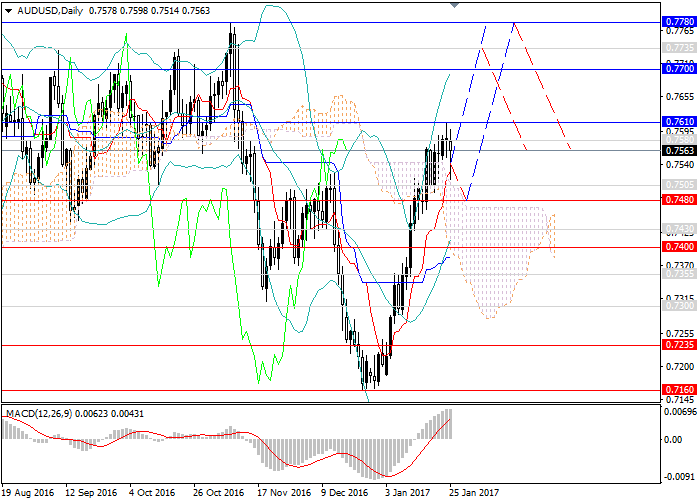 Scenario
Timeframe
Weekly
Recommendation
BUY
Entry Point
0.7548, 0.7505, 0.7400
Take Profit
0.7780, 0.7835
Stop Loss
0.7330
Key Levels
0.7160, 0.7300, 0.7400, 0.7430, 0.7480, 0.7505, 0.7610, 0.7700, 0.7735, 0.7780, 0.7800, 0.7835
Current trend
Within less than a month, the pair gained almost 500 points and reached its key resistance level at 0.7610.
The pair was significantly supported by weakening in the US Dollar, which remains pressured by uncertainty about the plans of the new president administration regarding taxation stimulus and other important economic decisions. At the same time, the Australian currency is supported by commentaries from the RBA that notes that the pace of inflation is approaching its target levels. In the medium-term, this could mean that the regulator is not planning to apply additional stimulus measures.
This week attention needs to be paid to data on the Producer Price Index from Australia and to statistics on the labour market, GDP and Durable Goods Orders in the US.
Support and resistance
The pair continues trading in a long-term sideways channel, heading to its upper border at the levels of 0.7735, 0.7780, 0.7835.
Technical indicators suggest a growth continuation. The price broke out the middle MA of Bollinger Bands, growing to the upper line near that stands near the level of 0.7780. MACD histogram is in the positive zone and its volumes are rapidly increasing.
Support levels: 0.7505, 0.7480, 0.7430, 0.7400, 0.7300, 0.7235, 0.7160.
Resistance levels: 0.7610, 0.7700, 0.7735, 0.7780, 0.7800, 0.7835.
Trading tips
Long positions can be opened from current levels and from the levels of 0.7505, 0.7400 with targets at 0.7780, 0.7835 and stop-loss at 0.7330.