EUR/USD: Fed will not rush to increase rates
01
February
2017, 14:47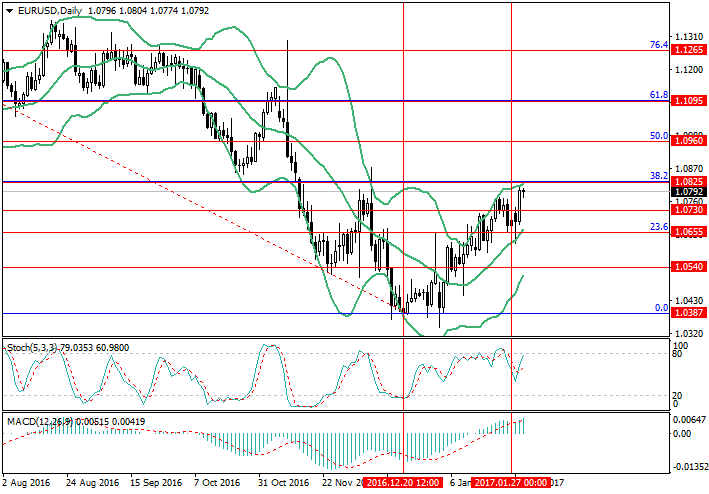 Scenario
Timeframe
Weekly
Recommendation
BUY STOP
Entry Point
1.0830
Take Profit
1.0960, 1.1095
Stop Loss
1.0780
Key Levels
1.0390, 1.0540, 1.0655, 1.0825, 1.0960, 1.1095, 1.1265
Alternative scenario
Recommendation
SELL STOP
Entry Point
1.0730
Take Profit
1.0655, 1.0540
Stop Loss
1.0790
Key Levels
1.0390, 1.0540, 1.0655, 1.0825, 1.0960, 1.1095, 1.1265
Current trend
The EUR/USD pair is under pressure of the uncertain economic policy of the new US administration. While the contours of the economic policies of President Trump are still taking forms, but the first task is already outlined – an intention to weaken the national currency, which reduces the competitiveness of the American products. In this light yesterday's statement of Peter Navarro can be seen. One of the chief economic adviser to the US president accused Germany of underestimation of the euro to benefit from the trade. Later, Trump also noted that a number of countries devalue their own currencies to gain advantage in the market. These statements provoked an immediate jump in prices to the 1.0810 (Fibonacci correction 38.2%). Although, the Ministry of Economy of Germany has denied the charges, market participants are wondering whether this is a beginning of a trade war with the European Union.
On the other hand, the US Federal Reserve announced a three-time increase in the interest rate this year. However, Federal Open Market Committee is unlikely to risk in the circumstances where the state's economic policy is undergoing major changes. However, at a press conference Janet Yellen may hint at further actions of regulator, and perhaps the date of the next increase. Confirmation of the policy of gradual tightening may have a strong support for the American currency.
Support and resistance
From a technical point of view, the pair is trading around 1.0825 (38.2% Fibonacci correction) and its breakdown may send the pair to the levels of 1.0960 (50.0% correction) and 1.1095 (61.8% correction). The growth of prices is confirmed by the indicators: Stochastic is pointing upwards, MACD histogram is growing in the positive zone. However, given today's fundamentals, the price correction could continue to the level of 1.0655 (the middle line of the Bollinger Bands, Fibonacci correction 23.6%) and 1.0540 (lower Bollinger band line).
Support levels: 1.0655, 1.0540, 1.0390.
Resistance levels: 1.0825, 1.0960, 1.1095 and 1.1265.
Trading tips
In this situation, the position to buy should be opened only above the level of 1.0825 with the targets at 1.0960, 1.1095 and stop loss at 1.0780. Short positions can be placed at the level 1.0730 with the targets at 1.0655, 1.0540 and stop loss at 1.0790.